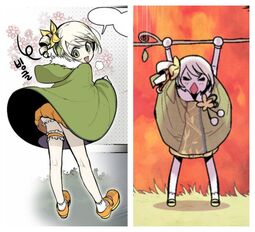 Nina Diaz is a character of the Korean Manhwa Americano Exodus. She is the daughter of the lady of the Eastern Root District, Pierre Diaz. She also is a member of seven member team deployed to the earth to capture members of the Twilight Daybreak Group.
She has a light blonde hair and green eyes. She has carelessly cheerful personality.
She makes her first appearance in chapter 2. She makes her second appearance in chapter 16 in front of Empire State Building. In subsequent chapters, she purchases hot dogs from Pink's Hot Dog, a restaurant located in Los Angeles. Thus, it can be assumed that she is in charge of North American district.
Ad blocker interference detected!
Wikia is a free-to-use site that makes money from advertising. We have a modified experience for viewers using ad blockers

Wikia is not accessible if you've made further modifications. Remove the custom ad blocker rule(s) and the page will load as expected.